Meet the Team - Paul Shanahan
Meet our Shooting Grounds General Manager Paul Shanahan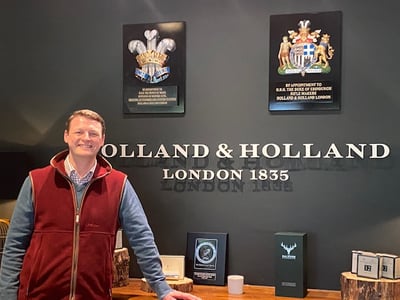 Hi Paul - tell us a bit about yourself- what is your background and what you did before you joined Holland & Holland?
I'm a Hotelier by trade and have also worked within the Food & Beverage industry for many a year. I've enjoyed running some wonderful hotels in my time and worked with some amazing chefs. My experience is mostly in the Country House Hotel sector in institutions like Le Manoir Aux Quat' Saisons, The Vineyard Hotel and Gidleigh Park, but I have also enjoyed stints in Football Stadiums and was part of the opening team for The Emirates, when Arsenal relocated from Highbury and also Wembley.
Did you always know you wanted a career in the hospitality industry and have you worked in any other professions?
I grew up in Hotels and my Father was a Hotelier also. I always enjoyed the buzz in Hotels and have met some brilliant people along the way. I got the bug early and I loved the diverse cultures in Hospitality and the friends you make far and wide.
What are the greatest challenges you think you will face in your new role at Holland & Holland?
Holland & Holland is an Institution and is steeped in history and tradition, it is the most fascinating place to be and I'm continually blown away by the talent within Holland & Holland. Our instructors are some of the finest people in the business and is difficult not to walk away a little wiser than you were when you first go out with them. You can only admire the craftsmanship at the factory when you see what they do there and the beauty in their work. The team at The Shooting Ground are some of the most passionate ambassadors for Holland & Holland so my biggest challenge s finding the marginal gains needed for us to continually evolve, carving the next chapter in the long history books of Holland & Holland. You couldn't ask for a better or stronger foundation to build upon though.
Are you a shooting man and if not, is it something you would like to take up as a hobby?
I've enjoyed a little shooting before coming to Holland & Holland and had visited a couple of other shooting grounds beforehand. I am continually improving but still have a long way to go, I haven't embarrassed myself yet on our grounds, but that's usually because the instructors here have the patience of a saint.
What are thing aspects of your job that you enjoy the most?
We've got a great team here and have some exciting projects underway, to the point where it feels like a new opening within a mature business.
If someone was looking to get into a career like yours, what advice would you give them?
Learn the foundations and find what makes you happy. Never undervalue being happy in what you choose to do and good things will come.
What are your main hobbies and interests outside work
Out of work, I enjoy dining out and seeing what others are up to. Mostly I enjoy taking the dog out for a walk and getting fresh air. Otherwise you will find me on my rowing machine most mornings before I come to work.
You must get to eat in some fantastic places - are there any particularly memorable meals you've had (aside from at the Shooting Grounds of course!)
Bit of a biased plug, but I really enjoyed going to Josh Hunter's new restaurant, Hawthorn, located at Kew. A wonderful neighbourhood restaurant. At the other end of the scale I've recently enjoyed a great meal at Studio Frantzen located in Harrods a new restaurant recently opened headed by Bjorn Frantzen.
Are there any big changes that you would like to see for the future of the Shooting Grounds that you can tell us about?
Plans are in motion, watch this space is all I will say for now.