Meet the Team - David McMenamin
This month we meet David - an integral part of the front of house team at the Shooting Grounds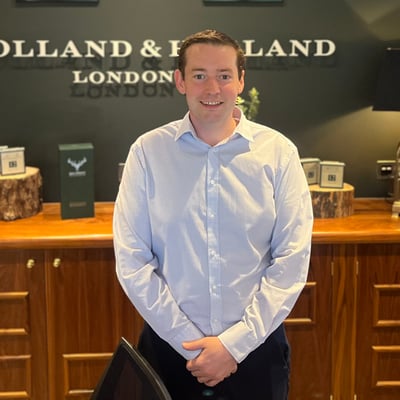 Hi David, how long have you worked for Holland & Holland and what did you do before that?
I have been employed with Holland & Holland for three & a half years. Before I started working at the shooting grounds, I had a career in the storage industry.
Did you grow up in this area?
I was born in Perivale, not too far away from the grounds and factory.
What exactly does your job involve day to day?
Based on the front desk at the shooting grounds, my role is in most cases the first point of contact for our customers, from booking in a lesson or gun fit, to dealing with general enquiries. I always like to make myself available and learn something new to assist my fabulous colleagues. Every day is unique from the Holland 100 competitions to large corporate days and shotgun beginners courses we have such a variety of offerings. Lunch service can be especially exciting when the new menus attract customers far and wide. It is always a pleasure to find the customer the right option for their shooting experience.
What do you most enjoy about your job and what are the greatest challenges?
Meeting with the customers is the biggest joy, everyone is so different, and they all have such amazing stories to tell. It is so important for me to be able to provide the right impression to our customers, especially when you can be faced with multiple challenges all taking place at the same time. With customers coming into and out of the grounds throughout the day, I am so blessed to have so many great people around me to face those challenges.
Do you shoot and if so is it something you would like to do more of? If not, would you be interested in trying?
My first experience of shooting was with air rifles, when I was a Scout. I always enjoyed virtual shooting experiences, so the opportunity to do it for real was amazing. I have been out a few times since I started, with my colleagues, friends, and family. I always enjoy time spent taking part in outdoor pursuits. I am interested in trying the outdoor rifle range for the first time and completing a rifle stalkers course.
What are the biggest changes you've seen in the company since you joined?
Whilst I have been working at Holland & Holland, there have been so many new developments and exciting announcements. It always seems that Holland & Holland has got another new venture on the horizon. As a company with a deep history, seeing the addition of new people who bring their wealth of knowledge from the industry to the grounds has made such a positive impact in my own experience. Whether it be the development of exciting new shooting stands such as the grouse butt, technical improvements to our online bookings and reservations or something truly inspiring created especially on the menu. You cannot beat that wow factor of seeing a gun that has been custom made for a customer. However, seeing someone start their shooting journey as a complete beginner and then coming to organising their own event for their friends, family and employees because they love shooting at the grounds so much that they want to pass it on to the most important people in their lives, is very rewarding.
Do you get to see a lot of people returning to the shooting grounds time after time?
There are so many regulars who shoot with us, especially at the Holland 100 & our corporate events. It is also great to see how many companies continue to book fantastic corporate days and welcoming them back so they can share the experience with their clients.
What other interests and hobbies do you have outside work?
I love to go swimming and I am a keen guitarist. But you cannot beat spending some time playing on the PlayStation or watching Netflix with a pizza. Taking part in any exciting activity and having a lust for a good time, gives me something each month to work towards.
Do you think you have to have an intrinsic love of field sports to work for Holland & Holland
I think you must be someone who loves getting involved and tucking into a challenge. With so many aspects to the business, I believe it is not one key component that is needed but a variety of passions and interests. Everyone who works here has a unique passion and knowledge to offer.
What is the most commonly asked question in your job
On the phones I am often asked for the prices of our lessons and for our availability. After the shoot finishes it is usually when can I book in the next lesson?
If you could choose one gun made by Holland & Holland, what would it be?
I would go for the Holland & Holland Royal Side by Side, if you're going to do something, you may as well go for one of the best London guns and do it with barrel loads of British style.